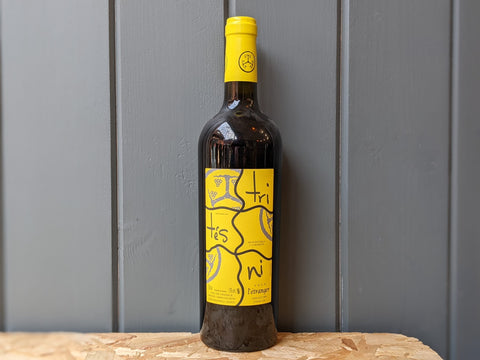 Trinités
Trinités | The Stranger 'L'Etranger' Cinsault / Syrah
Tamlyn Currin on jancisrobinson.com says this about this amazing wine :
"Natural wine from Simon Coulshaw: no cultured yeast, enzymes, chemical tannins or fining product. 90% 120 year old-vine Cinsault + 10% Syrah. I was instructed to chill this a bit before tasting. It was in the fridge for about 25 minutes and then left out for 10 minutes before tasting.
Fresh red-berried nose. Hurrah! Here is another Languedoc producer who 'gets' Cinsault. Perky, bright, raspberries and with that lovely telltale Cinsault salty-sweet tang that always reminds me of the best prosciutto or jamon. A bit of white pepper and ground cumin tangled into feather-light sinews of tannin. This is absolutely YUM. Tapas/aperitivo wine, without a doubt. I could drink this all summer long. Good Value. 17/20"